WILLPOWER MODULE adopted Leading-edge technology PERC CELL, and further improve output power of the monocrystal cell.
What is the benefit to be provided from new cell technology??
The whole balance becomes stable because the higher generating electricity yield can be offered through one day when comparing PERC cell solar cell module with the one for which a conventional cell was used, and the generating electricity yield obtained from the same surface area improves. It's the important benefit that user can get much generating electricity yield more in the market where I made the housing where space in a roof is limited the subject in particular.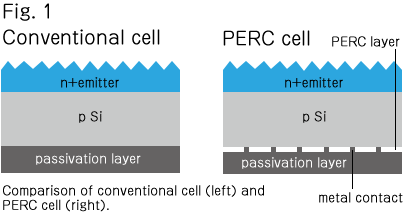 What is PERC technology?
PERC technology is similar to conventional cells in the use of monocrystalline wafers, which are far more efficient than multi crystalline-based technologies. But PERC goes even further by providing an additional dielectric passivation layer at the bottom of the cell (see Figure 1). This extra passivation layer substantially reduces electron recombination—the tendency of electrons to recombine and block the free flow of electrons through the cell, which hinders efficiency. Think of a solar cell like a highway, with cars representing electrons traversing the cell. The more traffic (i.e., electricity) can flow freely back and forth along the highway, the more energy it can produce. In a conventional solar cell, electrons constantly recombine and clog the flow—just like traffic congestion would on a highway. The extra passivation layer added with PERC opens new lanes to minimize electron traffic and allows more current to pass through unimpeded. In addition, PERC technology reflects less light and has higher internal reflection than standard cells, further contributing to an extremely efficient solar technology. (figure 1)
The design in the back of the cell is changed and dielectric layer with "reflectance properties" is being added.